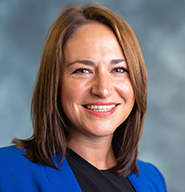 Every General Counsel has their own story of how they have come to be in their role. Whilst there is so much diversity amongst the in-house community, there are also many parallels between the challenges and considerations of General Counsel across the globe.
During this inspirational conversation, DLA Piper's own General Counsel, Kate Salter, speaks to fellow senior in-house lawyer Elizabeth Turner, about her career journey to date and her outlook for the future. The discussion covers the move from private practice to in-house, feelings of imposter syndrome, developing a unique leadership style and the effect of the pandemic on the in-house legal department.
A spotlight on Elizabeth Turner
Elizabeth is European Counsel at Castlelake, a US-based global private investment fund. Elizabeth previously worked in leveraged finance at Goldman Sachs, the Magic Circle and a US law firm, before being tasked with starting the Castlelake European legal function from scratch. Now, Elizabeth structures and executes the pan-European strategy across funds and asset classes (with particular expertise in real estate, specialty finance, sub- and non-performing loans and special situations). Elizabeth also takes ownership of compliance and regulatory function for Europe.
Elizabeth is a determined "change activator". As a senior female, her mission is to redefine what a "successful leader" looks like. Elizabeth is proud of her growth mindset, and demonstrated skilful versatility during the pandemic but upskilling rapidly to changing market conditions.