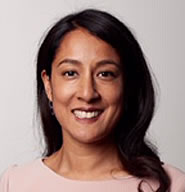 Disruptive leadership may seem like a contradiction in terms but is often now seen as a fundamental component for leaders in most organisations. In particular, in the start-up world, disruption is often the determiner of progression.
Focusing on her own experiences of transitioning from a FinTech start-up to a well-renowned organisation at Close Brothers, Angela discusses how her own leadership style has evolved and the various factors that has shape this change. Angela also shares her thoughts on the importance of talent management in harnessing the potential of disruptive innovation in workplaces and how leaders must balance the organisation's drive towards innovation with their personal commitment to ensuring their team's development.
A spotlight on Angela Yotov
Angela Yotov is the Group General Counsel at Close Brothers, a FTSE 250 merchant bank. She has over 15 years' experience working in financial services, with a focus on the FinTech arena. Prior to assuming her role at Close Brothers she was General Counsel at Ratesetter and Legal Counsel at Barclays Bank. At Ratesetter, a high growth leading FinTech lending platform, Angela was the organisation's first in-house lawyer and was required to exercise leadership qualities in a new and disruptive environment.
Angela is the Co-Founder of a mentoring initiative for General Counsel, Mentorix which was launched in 2019 aimed at providing mentorship programmes to GCs of the future. Among Angela's accolades is her listing on Innovate Finance's Women in FinTech's Powerlist in 2016 and 2017.
Interview conducted by Dr Catherine McGregor for DLA Piper WIN.