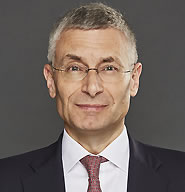 In recent years a number of factors including operational thinking, adoption of technology, inclusivity and innovation are requiring law firms to undergo some fundamental strategic rethinking. Here Andrew explains how DLA Piper's strategy is looking beyond the constraints of the traditional definition of a law firm and is shifting the focus to 'radical change'. This is change that truly impacts the client's experience, effecting not only what services the firm offers now but what it can offer in the future to provide a total solution to its clients' needs.
A spotlight on Andrew Darwin
Andrew joined DLA Piper in 1981 as a Corporate lawyer, becoming a Partner in 1987. He has held a number of senior leadership positions within the firm, including Head of Corporate, Managing Director of the EMEA region, UK Managing Partner, Australian Managing Partner, Chief Operating Officer (for the firm's non-US operations) and Managing Director, Developing Markets (with responsibility for a number of regions, including the Nordics, the Middle East, Africa and India).
On 9 February 2018, Andrew was elected as Senior Partner of DLA Piper International in 2018 and is also the Global Co-Chairman of the firm.
Interview conducted by Dr Catherine McGregor for DLA Piper WIN.