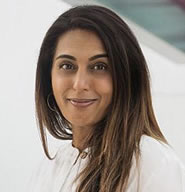 Inevitably leadership entails increased responsibility, notably including the responsibility for helping to cultivate a more inclusive working culture within your team and your broader organisation. The legal industry has progressed hugely in recent years to become a more diverse and inclusive arena, however there is still work to be done, particularly amongst leaders. As a leader who is personally passionate about true change in regards to diversity in leadership, Rupa shares her thoughts on how we can encourage legal leaders to become inclusive leaders.
A spotlight on Rupa Patel
Rupa Patel is General Counsel at Awaze, having developed a successful career through several exciting General Counsel roles at TruRating, BPP and Exterion Media, often as the first lawyer in the company. Before moving in-house Rupa worked in private practice at Simmons & Simmons.
Working with prominent CEOs across a diverse range of organisations has given her many valuable opportunities for personal development as a leader of people. This places Rupa within a new breed of in-house lawyers who are challenging many of the old paradigms about what the roles of an in-house lawyer is.
Interview conducted by Dr Catherine McGregor for DLA Piper WIN.