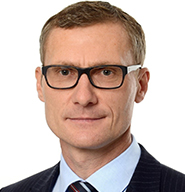 In recent months, the role of the in-house lawyer has been required to adjust to suit the evolving needs of their organisation with a number of considerations playing a key role within this shift. The WIN Insights Report explores these considerations in detail, allowing you to learn from the experiences of your peers across industries and countries. Read more from Thomas and other in-house lawyers by downloading the report.
During this podcast, Dr Thomas Karst explores the importance of relationships when operating a successful in-house legal department; the pressure on in-house teams continue adding value to their business in light of remote working arrangements and reduced budgets; and the effects of the COVID-19 pandemic on the relationship between his legal team and their external legal providers.
A spotlight on Dr Thomas Karst
Dr Thomas Karst spent time working in private practice as an attorney-at-law with a focus on M&A at CMS Hasche Sigle in Stuttgart and Berlin. He went on to become the Head of Legal M&A & Anti-trust at Celesio AG between 2006 – 2013.
Dr Karst then relocated to Switzerland between 2013 – 2015 to take on the role of Lead Counsel M&A / Corporate Venture Capital at Syngenta AG before returning to Germany as General Counsel and Corporate Compliance Officer at Vetter Pharma.
In his most recent role as General Counsel, Chief Compliance Officer and Data Privacy Officer at Rolls-Royce Power Systems AG, Dr Karst manages a team of around 55 members covering Legal, IP, Integrity & Compliance, Export Control and Data Privacy. He is a member of the Executive Leadership Team.
Interview conducted by Claire Coe for DLA Piper WIN.