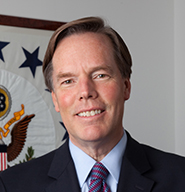 For lawyers, and especially lawyers working in-house, it is important to understand our clients' challenges and objectives in running their businesses. A key part of that context is the politics and the economics – both at a micro level, within the markets and sectors in which the business operate – and on a broader, macro level. The pandemic has shaken up a whole range of politics, policies and markets so here we discuss the emerging picture of the world that should be front of mind for in-house lawyers when advising their stakeholders.
Looking forward, we discuss whether Ambassador Burns anticipates the world will be in a better shape next time around to face the next epidemic, pandemic or crisis. And on a positive note, Nick also discusses with Ambassador Burns what they are hopeful about and where they see some global opportunities.
A spotlight on Ambassador R. Nicholas Burns
Ambassador R. Nicholas Burns is Senior Counsel at the Cohen Group and the Roy and Barbara Goodman Family Professor of Diplomacy and International Relations at Harvard University's John F. Kennedy School of Government. He served as Under Secretary of State for Political Affairs from 2005-2008 at the Department of State until his retirement in April 2008 after 27 years in the United States Foreign Service. As Under Secretary, Ambassador Burns shepherded successful negotiations to achieve new agreements with India in civil nuclear energy; negotiated a $30 billion long-term military assistance agreement with Israel; and served as the chief US negotiator on Iran's nuclear program.
He previously served as the US Ambassador to NATO, the US Ambassador to Greece, and the State Department Spokesman.