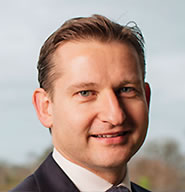 Part of Kenny's role is supporting the FinTech initiative through the deployment of new and emerging technologies at RBS. The rise of FinTech (Financial Technologies) is bringing disruption, diversification and growth to the financial services industry across the globe.
Much of the thinking about disruptive innovation has traditionally been associated with start-ups or high growth companies. However, during this podcast, Kenny discusses why it's important for more established companies and their legal teams to also take a practical look at the notion of disruptive innovation. Reflecting on his own organisation and his legal team, Kenny considers the particular challenges associated with this type of disruption and how his team have navigated through them.
A spotlight on Kenny Robertson
Prior to joining RBS in 2006, Kenny had worked in private practice before making the move in-house at a technology company. In Kenny's current role, he principally supports the drafting and negotiation of the bank's outsourcing arrangements with tier one third party vendors. Kenny also provides transaction and strategic advice in relation to bank-wide restructuring, regulatory and divestment programmes.
Kenny's technology background has proven useful in his current role where he provides extensive support to the bank's technology, innovation, payments and FinTech initiatives and works closely with the bank's innovation hub at its headquarters in Edinburgh. In addition, he continues to support and promote the bank's engagement with SMEs and the start-up community through his involvement the RBS entrepreneurial programme.
Interview conducted by Dr Catherine McGregor for DLA Piper WIN.