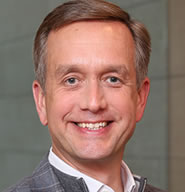 Tim Murphy is General Counsel for Mastercard, overseeing legal affairs, public policy, corporate secretary and compliance. A member of the company's management committee, he is also responsible for Mastercard's franchise, corporate security, privacy and global inclusion efforts.
Prior to assuming this role, Tim spent ten years in business functions, most recently as chief product officer, where he was responsible for the management, development and commercialization of payments solutions.
In defining the legal department's 'why', Tim sees a definite shift into operational thinking informed by business oriented viewpoints, rather than just legal. He feels a focus on what and how via business thinking and scalability is critical to success.
Here we talk to Tim about the importance of having a 'why' and how this impacts the strategic direction of the team and the subsequent effects on the organisation as a whole.
A common danger that many in house law departments face is relying solely on management by lawyers who have spent their lives in private practice. That's where you fall into the trap of a client service, project-based mentality.
Instead, every general counsel should be spending as much time thinking about the way they're working, how they're using technology and, most importantly, why they are doing that. Business leaders set strategy with a purpose. This is the core mindset that can truly engrain a law department into the business operations.
To best serve our companies, our boards and our stakeholders, I believe the internal law department has to evolve to a new, cultural model that has a foundation on four central pillars.
First is managing operations much more like a business. Second, we must embrace and be enabled by technology, particularly mobile so that people can get business done wherever they are. Third, managers must think about efficiency and scale it for impact, looking beyond simply delivering on their projects. Finally, the law department of tomorrow must be led by lawyers who will grow their skillsets to meet the demands of a rapidly changing business climate.
Business thinking
At Mastercard, we're taking a shared services approach to several areas of our business, including some legal activities. That is driving a lot of our thinking around strategy, scalability and application of technology.
What's interesting to me, as someone who spent ten years at this company in a non-legal role, is you're now truly seeing the integration of business thinking into other departments. Working with our shared service centre, we hired legal process professionals – people who had done this work before – for the day-to-day management.
You can't expect lawyers overnight to start thinking about this. And, I think as this type of model really takes hold, we're going to see a shift in the skills that are needed in leading legal departments and law firms.
Through my experience running our product organization, I had learned – and now instinctually know – how to build a process to get the legal department, and therefore the company, to a better place.
This has all sorts of things bundled up in it. You need to set some audacious goals. Setting an aligned strategy gets people organised around the work so that we can really think about getting better at how we do things, not just procedurally working through projects.
It's operational thinking – business thinking – if you will. My lightbulb moment going into the law department when I became GC was, "That kind of thinking has never been brought here."
It's operational thinking – business thinking – if you will. My lightbulb moment going into the law department when I became GC was, "That kind of thinking has never been brought here."
Many lawyers live their work lives in a very project-oriented way, which is the work comes in, you do the work, then you're done and the next work comes in.
If that's all you're thinking about, you know how to do that work well, but you're never going get to operational efficiency. Here's my IP lawyer working on IP; here's my M&A lawyer working on M&A. That sort of thinking is just not scalable and it's not the way businesses think.
Operational excellence
Our shared services approach is critical to our ability to scale our legal services and better partner with and support the business.
Quite simply, it is recalibrating the role of the law department.
We aim to direct most standard and repeatable work to our shared service centre. Right now, almost all of our non-disclosure agreements are being done in our shared service centre, not requiring a lawyer to take each on as a new task. It's about a different way of thinking and working internally. Our work is all being done by Mastercard employees or contractors managed on Mastercard platforms.
The shared service centre supports our HR and our finance teams, as well as law, delivering efficiencies and a broader view of the organization. It's an interesting example of collaboration across functions to lead to greater scalability and operational excellence, all for a shared goal.
Technology
You need to determine what technology you need in order to be able to keep pace with future growth.
It doesn't just happen instinctually. There is a process and a science to it. You have to understand that you will invest first and get the benefits later. It starts by having a discussion with your CFO/CEO about how it's going to work and keep the focus on the big picture – long term operational gains and cost savings: spending X to make these improvements and save X multiplied by 10 in the long term.
An example of thinking about technology is how we have integrated our contract management process into the same software our customer relationship teams use for all of their account planning. They can now literally request a contract from and interact with their lawyer in a single app. It's a mobile-centric tool that's their lifeblood, whether they're in the office or on the road visiting with a client. As lawyers we're interacting through that single channel, as opposed to multiple platforms, separate email systems and so on. It helps to really track time to revenue – from identifying the opportunity to how long it's taking us to go from win to execution.
If a company is only interacting with clients via email and even, in some cases, paper faxes, around the world, you're not going to be able to keep up with the growth of the future.
I do think many GCs still aren't thinking about, "what's my technology stack and how do I invest in it for the future?" It's something you have to do for your talent management, because those entering the workforce today want to work and interact on the kinds of tools they are used to using. If you can't provide that, they'll go work someplace that can.
The lawyer of the future
The final building block is people. The skill sets for in-house lawyers are going to look different than they did just a few years ago. We're already seeing the start of that.
In-house counsel need think about business strategy and scalability - and be able to deliver on it in order to lead their team's transformational journey.
We're in such a business climate of change driven by the destabilization of norms. The fact that big global companies are out there increasingly figuring it out on their own, means, as general counsel, I'm as much a political/business adviser as I am anything else. Some people have that skill, but it can be a very new skill and an even impossible one for others to master.
In thinking about succession planning, one of the things I'm very attuned to is making sure my potential successors in this role are exposed to those issues.
Legal training will have to change. There's obviously still a lot of value in learning on big ticket deals and complex litigations, but to lead the function well, you need more than just that big legal work. You need some significant time, either in house or in a business, where there's some tasking around the various key business issues: regulatory ambiguity, advising on political issues, process management and so forth.
Moving forward
This new way of looking at the legal department applies today, it's underway and then the question is where do we go next?
As our functions explore the use of shared services centers, we will be able to realize that we have just scratched the surface of opportunity. There are other big opportunities whether it's in IP, in compliance, or data privacy. There is huge potential to automate data privacy, particularly consumer data privacy which is now quite time consuming.
To grab hold of that opportunity at Mastercard, we've reorganized our department. Now one of our best business-oriented leaders is leading our department's operations team to live the mission of business thinking and scalability and drive that change through our teams. Frankly, that change process might go on forever.
So, as we enter a new year, we must recognize and embrace that change needs to be continuous. Successful legal departments will be able to drive a greater connection to business results by focusing on the "why" and then developing and activating the strategy to achieve it.
Interview facilitated and written by Dr Catherine McGregor for DLA Piper WIN.