We are pleased to bring you this set of on demand webinars which you can watch at any time on your laptop or mobile device. We appreciate majority of in-person learning workshops have been cancelled globally, however this is one way we can show you we are dedicated to ensuring your development needs are continuously met during this time.
In Australia, our annual In House Counsel Day (IHCD) events are extremely well received. We look forward to a new and exciting program for IHCD next year. We will keep you updated on how we are planning those and ensuring we are bringing you the most relevant content. For now, enjoy this online content as it suits you. Should you have any questions, please email [email protected].
Note: If you're Australian qualified and looking for CPD points, these sessions may qualify for a point in your jurisdiction. Please check your local requirements to confirm this.
Data breaches – a practical guide
Sarah Fountain, Partner, Litigation & Regulatory
Sarah Birkett, Senior Associate, Intellectual Property & Technology
A data breach can happen to any organisation of any size. In this session we will share with you our lessons learned from 'the front' and take a practical look at what can and should be done in those crucial first hours, days and weeks following a data breach, as well as how to reduce the risk of future incidents.
During the session, we will explore real life case studies of data breaches to look at how each organisation responded and compare this with best practice.
The Climate in 2020 – Intellectual Property and brand protection trends
Jessie Buchan, Senior Associate, Intellectual Property & Technology
Valiant Warzecha, Solicitor, Intellectual Property & Technology
In the current political, economic and environmental climate, brand awareness is on the rise and is translating into real pressures for companies and brand owners. As in-house counsel, it's important for you to therefore take a moment to consider some of the key trends for 2020 and the decade beyond. In this session we'll focus on some of the biggest news stories in the world of Intellectual Property, and discuss some of the key IP and consumer trends you need to be aware of moving forward.
Construction contract drafting skills
Jose de Ponte, Partner, Finance and Projects
This session will cover all the skills required for drafting construction contracts. We will cover:
when and how to use industry standard documents
drafting bespoke construction contracts, including identification of key clauses, contract structuring and principles
drafting to ensure your construction contract reflects the actual intended agreement
the risks of unclear or inadequate drafting.
Governance: What keeps your board awake at night?
Gerry Bean, Partner, Corporate
Al Macphee, Special Counsel, Corporate
In this session, we will explore some of the current issues that are keeping boards awake at night, including:
the many impacts of the COVID-19 epidemic, and its aftermath
ESG and changing community expectations, and how this may dovetail with other risks and issues
how regulation and compliance practices might change in a post-COVID-19 world
the growing focus on non-financial risk, and what directors and in-house counsel may need to do in response
the ongoing debate about whether corporations require a "social licence to operate", and what that might mean
the enhanced focus on corporate culture and directors' role in shaping and monitoring it.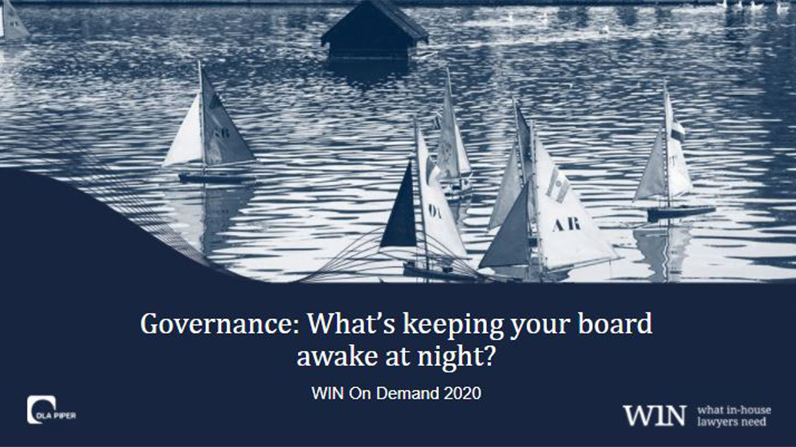 Contemporary ethical issues for lawyers
Ronwyn North, Managing Director, Streeton Consulting
The COVID-19 pandemic has raised questions of personal ethics, but what about the professional responsibility of lawyers? Are lawyers facing pandemic problems of an ethical kind or is COVID-19 a distraction from more pressing ethical issues? Join Ronwyn North as she explores the contemporary landscape for lawyers through different stories of challenging ethical situations.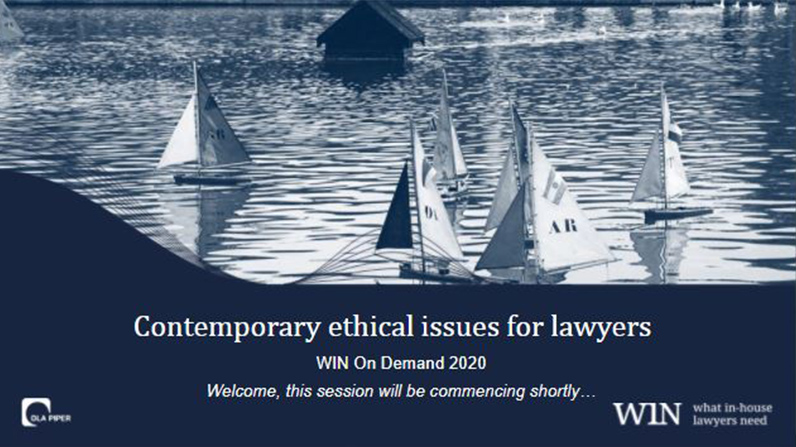 Preparing for global class actions arising from COVID-19
Various partners globally including Jean-Pierre Douglas-Henry, Partner, Litigation and Regulation and Kieran O'Brien, Partner, Litigation and Regulation
A growing amount of coronavirus disease 2019 (COVID-19) pandemic class action lawsuits in the US and Canada are early indicators of class action litigation risk that will arise around the world this year and next year. We are already seeing plaintiffs' lawyers trolling for plaintiffs for putative class action cases in multiple jurisdictions, and the risk to companies of global and cross-border class action and collective redress proceedings has greatly increased. This 90-minute webinar is intended for lawyers and non-lawyers at every level in all industries who want to learn more or better understand risk management in this rapidly changing landscape.